Lefty's legacy lingers on the Mickelson Golf Trail
SCOTTSDALE, Ariz. - The 2004 U.S. Open came to a close some 2,000 miles east of this arid canvas of cacti and creosote. Yet, the barstool banter and water cooler chatter following Phil Mickelson's"Shenanigan at Shinnecock" was so spirited, you'd think the tournament had been held at the TPC of Scottsdale.
Mickelson had blown his chance of winning a second major in as many tries with an unthinkable double bogey on the 17th hole at Shinnecock Hills. At the time, he held a one stroke lead over eventual winner Retief Goosen. He'd also blown his shot at the elusive, single season Grand Slam. Still,he'd captivated the hearts and minds of folks around here like he did during his halcyon days at Arizona State.
Based on the outpouring of emotion, it was as if Lefty still called this bustling basin of the Sonoran Desert home. But Mickelson and family picked up and moved from swanky North Scottsdale to San Diego a while back, leaving the Valley of the Sun in a cloud of desert dust. A native of Charger-town, the prodigal son returned home to raise his children where they could stick their toes in the sand and bask in temperatures that rarely deviate from par (70-72).
Like a caddy without a bag, the Phoenix/Scottsdale golf scene went in search of a new, fresh face to align with. Ricky Barnes was the logical heir.The University of Arizona product and 2002 U.S. Amateur champion had it all-the looks, the charisma, the local ties. He'd even taken up refuge in Scottsdale, splitting his time between Grayhawk and Whisper Rock. Only thinghe didn't have? A PGA Tour card.
Next!
Scottsdale has always had its fair share of PGA and LPGA Tour hang arounds. In recent years, Grace Park, Paul Casey, Geoff Ogilvy, Tim Herron and Aaron Baddeley have all made first or second homes in the desert. Rich Beem even hung his hat here for a while before heading back to El Paso. But none of these names, no matter how good the stick or magnetic the personality, can duplicate the impact Mickelson had on this golf-crazed community.
He may be gone. But if Lefty has truly left the Valley, you'd never know it by the legacy he (forgive the repetition) left behind. Traveling golfers and proud members of "Mickelson's Minions" have taken to experiencing his bequest via the "Mickelson Golf Trail" - a good walk spoiled down memory lane that extends from Tucson, through Tempe and into the cushy confines of Scottsdale.
You won't find the "MGT" in any flowery public relations brochure or official tourism documentation. Nor will you find a clip and save map, clever signage or any tangible signs of its existence. Only these cyber pages will divulge its whereabouts. So dust off your high profile Bearing Point visor, iron your black slacks and sew on your Ford logo. It's time to fire at the flag and lob wedge when you miss.
The Mickelson Golf Trail
Omni Tucson National Resort - Mickelson shocked the golf world here in 1991, winning the Tucson Open as an amateur and adding to his growing legend as golf's next big thing. He went on to collect two more Conquistador helmets in 1995 and 96 (trumped only by Johnny Miller's four titles), and establish a cult following among Tucsonans. The course he did it on, Tucson National, is a lush, tree lined layout with three nine hole tracks descriptively titled Orange, Green and Gold.
The Orange and Gold coupling is the "play where the pros play"combination.It's also the original 18 hole spread designed by Robert Van Hagge andBruceDevlin. Trail tidbit: The 465-yard 18th (Gold) is widely considered one of the toughest finishing holes on Tour. The Green nine is the newest ofthelot, but no spring chicken having opened in 1982. Desert golf this isnot -wall to wall grass and minimal forced carries make National a down right Midwestern golf experience.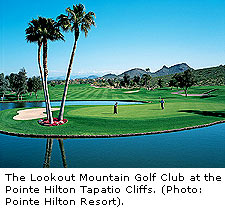 ASU Karsten - The country's best collegiate golf programs all scrambled to sign Mickelson to a scholarship his senior year at University of San Diego High School. When Pete Dye agreed to design the Karsten Course at Arizona State University in the shadows of Sun Devil Stadium, Mickelson inked with the Sun Devils. The ASU Karsten Course opened in 1989 and Lefty honed his skills on the rugged 7,026-yard circuit. Three national championships and a U.S. Amateur title (1990) later, it was safe to say Dye created a course capable of attracting and challenging the world's best young talent.
As of this writing, ASU Karsten was going under the knife for major irrigation improvements. It is slated to reopen in early October - prime MGT time with daytime temps in the high 80s and low 90s (dry heat,remember). Once it does, trail goers will understand how Lefty developed his rock solid iron game. The layout - shoe horned between campus and the Salt River -is as tight as an ASU/U of A football game. All the usual Dye trappings are present and accounted for: modern mounding, water hazards with railroad tie bulkheads and pot bunkers galore.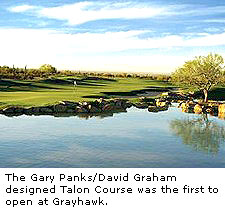 Grayhawk Raptor and Talon Courses - Grayhawk purveyor Del Cochran wasn't kidding when he told partner and developer Gregg Tryhus he'd bring Tom Fazio, Phil Mickelson, Gary McCord and the PGA Tour together at Tryhus' hip Grayhawk development in North Scottsdale. Through his friendship with then Arizona State University men's golf coach Steve Loy (now Mickelson's agent), Cochran convinced Lefty to become a Grayhawk "ambassador."
Mickelson dug the courses and the concept to the point agreed to stitch the Grayhawk name on his bag and rep the club on Tour (to this day, he still officially plays out of Grayhawk, according to his website and PGATour.com). Most of Mick's famous money matches took place on the Talon Course - a GaryPanks/David Graham design that holds its own with any of Scottsdale's high-end resort tracks. One of the most notorious duels produced the course record, a 61 Mickelson fired in route to taking $300 from anunsuspecting Tim Herron who'd just come out to the club to practice putting.
Raptor and Talon are different enough birds that different types of golfers gravitate towards one or the other. Raptor is sinewy and strong - the "player's course" if there is such a thing. Prior to the Phoenix (now FBR) Open, a handful of Tour players typically sneak off to practice on Raptor's beefy 7,100-yard, par 71 layout. Once there, they fine tune the flat blade on a greens that are among the largest and most severely contoured in the area. Come Thursday, the TPC Scottsdale is looking a little less daunting.
Talon has the eye candy and the holes that make their way onto digital cameras. There's a par 3 with a swinging bridge (No. 11) and even an island green on the par-3 17th. From a design standpoint, Talon is more imaginative than Raptor. And for lack of a more sophisticated description, it's more fun. Play one, play both, but be sure and finish off the day with a cold beverage at Phil's Grill - Grayhawk's answer to the men's locker room (ladies, you're welcome, too). Lefty memorabilia hangs from the walls, a big screen TV casts the day's sporting event, and margaritas are the specialty of the house.
Stay and play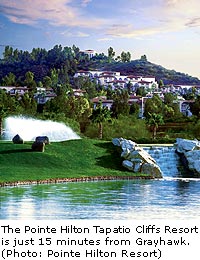 In Tucson - supplement the MGT with a stay at the Hilton Tucson El Conquistador. The 428-room property snuggled against the western reaches of the Santa Catalina Mountains happens to be the Old Pueblo's largest golf resort (45 holes). Or bed down at the Omni Tucson National for prime access to Tucson's portion of the MGT. Both resorts are located on Tucson's Northwest side and make for a shorter drive to Phoenix and Scottsdale.
In Phoenix - The Pointe Hilton Tapatio Cliffs is situated about 15 minutes west of Grayhawk and 20 minutes northwest of ASU Karsten. The Mediterranean style resort tumbles down the cliffs north of the city, making for a cocktail sipping background that's hard to beat. Should you get your fill of Phil, the resort houses an 18 hole resort track, Lookout Mountain Golf Club, that's perfect for an afternoon money match. Don't miss the live jazz at the decidedly sheik Different Pointe of View restaurant, located atop the resort. For reservations or more information on package deals, call (800) 947-9784 or log on to pointehilton.com.
Making noise at Whisper Rock
While not available for public consumption, Whisper Rock Golf Club in North Scottsdale is noteworthy footnote for fans of the Mick. The "Rock," as it is known locally, is Mickelson's first foray into course design. His introduction to the trade was made easier by teaming with golf course architect Gary Stephenson, a former partner of Gary Panks.
Whisper Rock is the course, and the club, Grayhawk developer Gregg Tryhus always wanted to build. The course is a sporty, low lying layout that's heavy on strategy, but lacks the ridiculous bunkering and overdone landscaping that typically accompanies a six-figure initiation fee private track. The club is a haven for well-heeled golf jocks with single digit and plus handicaps who could care less about swimming pools, tennis courts and lawn bowling. common. (SS)
Oh, and you want a Friday game with the chops to rival any private club in the country? The Rock's got your match. Ricky Barnes, Gary McCord, Tim Herron, Paul Casey and Geoff Ogilvy are members, and did we mention Phil Mickelson? Get in a group with Dan Quayle and you better have a money clip with the big bills on the outside.
Memberships at the Mickelson/Stephenson course are about sold out, but a new Tom Fazio design perched in the hills above the club is slated to open this fall. A sneak preview of the Rock's new addition revealed a course that is likely to dive headfirst into the rankings and ratings of the national golf glossies. Fazio pushed plenty of earth around, but the site speaks for itself. Hint - think The Boulders with a healthy dose of Estancia. (SS)
June 22, 2004