New owners promise better golf to come at Legend Trail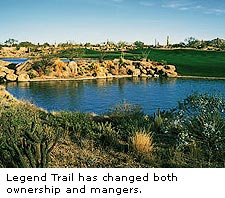 Those who know the Legend Trail Golf Club in north Scottsdale can expect onethe better courses in the area to get even better, if the new ownersstaytrue to their word.
The club was sold last week to Scottsdale Golf Group, which will alsomanagethe club for its financial partners, the J.E. Roberts Company ofMacLean,Va.
Founder and CEO of Scottsdale Golf Group, Shelby Futch said the upscalepublic course facility will keep the green fees at their current level -$160 in peak season and $90 in the summer - while upgrading much of thecourse and its services.
"We're going to move in a Golf Digest School site with a state-of-the art learning center, which is already in,"Futch told Travelgolf.com "We're going to be improving the technology as summer goes on, and we're going to be doing some work on the golf course itself to re-do all of the bunkers which are overdue for maintenance."
The new school replaces the McLean Golf Academy. Futch also said theclubplans to work on the greens over the summer, expand the clubhouse toaccommodate a tournament field of 144 golfers, as well as put in newnurseries.
No sale price was announced, but the new owners reportedly got thepropertyfor considerably less than the $18 million price tag put up by theoriginalowners, the Ziff Brothers of New York, a year ago.
"We just thought it was a very good golf course," Futch said."Everythingthat goes on in buying a golf course, there have to be certainstandards.Its net operating income has to fit into the market price. It's notsold onasset value; it's sold on cash flow value."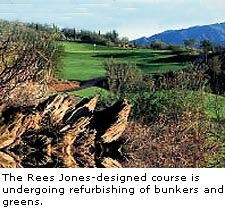 Still, it is unlikely many more courses will be built in the area, considering Arizona water rights issues.
"The water issues in Scottsdale are going to be prohibitive," Futchsaid."The number that's floating around to connect, and be able to hook upforwater is $7 million for the cap fee. When you start doing the economics,itdoesn't make any sense - there probably won't be any more golf coursesbuiltup in that direction."
The sale means Troon Golf will no longer completely rule the roost whenitcomes to Scottsdale golf. Troon began managing the club when it wasopenedfor play in 1995, and still manages Troon North in Scottsdale, whose twocourses, the Monument and the Pinnacle, have won too many awards tolist,though many golfers say they find it not worth the high greens fees.
Scottsdale Golf owns or manages four other properties in the area,includingthe Red Mountain Ranch Golf and & Country Club and Painted Mountain GolfClub, both in Mesa, and the Hillcrest Golf Club in Sun West City.
"It's a premier product for anybody, whether it be Troon or anyonethat's adeveloper or operator of golf courses," Futch said. "We certainlyconsiderit to be our crown jewel."
The par-72, 6,872-yard course in the high Sonoran Desert has drawnconsistently high marks for its service and playing conditions, as wellasits vistas of Pinnacle Peak, the McDowell Mountains, Camelback, MummyMountains and the city of Phoenix.
The wide fairways are offset by large, but difficult to read greens.Designed by Rees Jones, Golf Magazine ranked it 88th in 1998 in its "top100courses you can play in the U.S."