Mountain View Golf Course: Public Now Welcome to Enjoy Lush Layout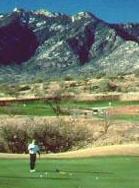 Chip Shot: With picturesque mountain views, rugged natural terrain, an abundance of wildlife, and a lush layout, Mountain View Golf Course is an excellent choice for your next trip to the links.
TUCSON, AZ - Set against the western slopes of the Santa Catalina Mountains, Mountain View Golf Course is a semi-private course just 15 minutes north of Tucson in the Saddlebrooke housing community. Opened in the winter of 1997, it has hosted the Arizona Senior Open the last three years. Its generous fairways and receptive greens are in fine condition for spring play, offering a layout that all players will enjoy. Here's a look.
Last Friday I made the short drive up Oracle Road to Mountain View. Walking into the pro shop, I received a friendly greeting from head professional Mark Demorest. He told me that Mountain View will be open to the public starting May 1. Further, he recommended making a reservation up to a week ahead.
Before heading over to the practice range, I surveyed the merchandise and was pleased to find a wide variety of logoed and name brand apparel. Everything from brand name equipment to bargain values can be found here.
I drove over to the range, which is grass with yardage markers to help me prepare for my round. Practice greens and chipping areas lie on both ends of the range, making it ideal for prolonged practice sessions. Mark soon joined me on the range, then we drove over to the adjacent first tee to start play.
The Links is a par 72 layout with four sets of tees: black for championship players measures at 6,728 yards, purple at 6,040 yards, green at 5,545 yards, and wine for women and juniors at 5,030 yards. Mark and I teed it up from the black.
Mountain View opens with a straightaway, 373-yard par 4. The Catalinas shade the hole until mid-morning making for a cool start even in the summer. Its fairway slopes down to the right, so the ideal drive is up the left side to avoid finishing in the rugged natural terrain. A short iron remains to a wide but shallow green. The pins are color coded with red front, white middle, and blue back.
On your approach, if you finish short right, you'll be in a grass depression. These are common at Mountain View and often take the place of bunkers. Once on the green, give your putt a firm stroke to keep it on line. Rolling 8 on the stimpmeter, firmness is crucial.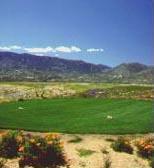 No. 2 is one of my favorite holes. It's a dogleg right, 565-yard par 5. From the black tees you must choose the proper line to maximize the distance on your drive. From the other tees, it's a straight shot up the fairway. Two fairways bunkers dot the left side, capturing drives that attempt to scamper through the fairway.
Right of the fairway on the hill lies an old cattle lake where numerous species of wildlife, such as deer, mountain lion, and javelina, go to drink. Mountain View sits at 3,300 feet, with temperatures a few degrees cooler than Tucson. Combining that with the nearby mountain terrain, it is easy to see why wildlife is a part of the course.
On your second shot, the best play is to the far left of the fairway, creating a straight approach into the green. Three bunkers partially guard the wide green's front. With an accurate wedge in, birdie is likely.
Mountain View's most difficult par 3 is #8, measuring 207 yards. It's uphill into a large green. Two bunkers protect the back left portion. A back left pin placement is just a sucker pin. The smart play is to aim for the middle of the green and two putt for par.
The back nine opens with an uphill, straightaway 355-yard par 4. An ideal drive will find the right side of the fairway for a perfect approach angle. There really are no obstacles on #10, so with two good shots and a putt, you'll start the back side off the right way with a birdie.
Following such a straightforward hole, is the trickiest hole on course. Measuring 428 yards, a wash crosses the #11 fairway at 275 yards. The key here is to get as close to the wash as possible to leave a better angle of attack on the uphill second shot. Large trees will block a tee ball that comes to rest too far left, and a hook will be required just to reach the putting surface. Greenside, watch out for the large bunker left. Par here is a very good score.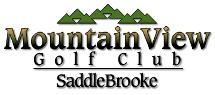 Mountain View closes with a slight dogleg left, 495-yard par 5. Two left fairway bunkers need to be steered away from if you have hopes of reaching this green in two. With a long drive, a fairway wood remains into a large green. Three fairway bunkers within the last hundred yards are eager to catch any bounding drives headed for eagle territory. Further, there's a small bunker right of the green.
The large putting surface can leave long eagle putts if reached in two. From that distance you'll most likely be left with a testy four-footer for birdie. Here's where you prove to your buddies that you're no Bernhard Langer by sinking it.
After your round, relax at the large, luxury clubhouse behind the #18 green or at the grill by the pro shop. Both offer tasty food for a reasonable price. Further, the clubhouse can be rented out or reserved for parties or group outings.
Mountain View Golf Club is one of Tucson's best courses for all players, ideal for either a family outing or a competitive match. Take that short drive north of Tucson and check it out.