Ride the range or the fairways at Rancho de Los Caballeros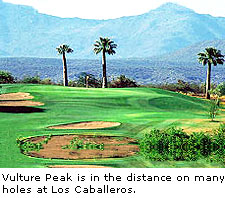 Rancho de Los Caballeros is considered one of the top ranch resorts in theUnited States and it's only about 50 miles northwest of Phoenix in the townof Wickenburg.
But even if you aren't interested in riding horses and pretending to be a cowboy during a long stay, you can still enjoy the ambiance of this rustic place for a day by playing its highly rated semi-private golf course, designed by Greg Nash and Jeff Hardin. At the rancho, whose name by the way means "ranch of the riding gentlemen" when translated into English, you'll find historic-looking adobe buildings decorated with cowboy chic.
Lots of dirt roads shaded by mesquite still serve the ranch, and some of thefairways on the course border the horse trails and corrals.
Once upon a time, travelers from California had to pass through Wickenburg on their way to Phoenix. But after the highways were changed and improved, Wickenburg was bypassed as a result, and now seems a long way off the well-beaten path. That road change was a great gift to this little town where you will feel as if you're traveling back to what Arizona was like in the 1940s and '50s.
In fact, the ranch has been there for 55 years and the golf course for about25. "The resort was an old-fashioned Western dude ranch," says CarltonBlewett, director of golf at Los Cab. "But as times changed and thefascination with dude ranches faded, the owners thought it would be a goodidea to build a golf course to increase traffic."
The course itself is bordered by desert areas, but has a traditional feelwith fairly generous landing areas and very few forced carries, Blewettsays. A slice or hook, however, can easily land you out of bounds.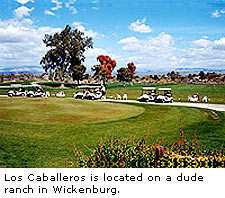 These are not big flat fairways though; there are lots of gentle rolls andknolls. Although many tee boxes are elevated, you end up having to hituphill to get to many of the greens. The greens are also well-bunkered soyou'll need to hit a number of high lofted shots on your approaches. But you'll need only a conventional exit strategy to fly out of the sand as thebunkering is fairly shallow. Wickenburg is at about 2,000 feet so your ballshould travel slightly farther due to the altitude.
The front nine is gentler than the back so count on scoring well at thestart to make up for any miscues on the back nine. After an easy start onthe first two holes, you come to a par-3 with one of those elevated,turtleback greens that this course is known for. From the back tees, No. 3measures 156 yards, but if you hit your regular 150-yard club, you'll be10-plus yards short. Watch out for the false front on the green as well thatmay make you think you're a lot closer than you actually are. In fact,sloping and dipping greens make all the par-3 holes difficult here.
No. 5 is a par-5 monster, 531 yards from the back tees and 420 from the forward. You hit from an elevated tee box downhill to the landing area, but you have to sail over mesquites and greasewood to get there. Then you have to sail over a hill and back uphill to reach the green. On this hole as on many of them, Vulture Peak can be seen in the distance, a 3,700-foot hunk of stone. The peak is named after the Vulture Mine, discovered in 1863, by Henry Wickenburg. The mine proved to be one of the richest treasures of gold in Arizona history.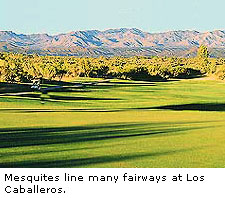 On the front nine, No. 7 is another tough par-5, 569 from the back and 400from the forward. Its fairway curls dangerously around a lake on the left onits approach to the green. You can try to cross a bit of the water to try toreach the green more quickly, of course. If you're too chicken for that, becareful that you don't go too far right as the fairway narrows down near thewater.
When you make the turn to the back nine, the look and feel of the coursedoes change. Fairways are narrower; desert and rocks fill many OB areas. The13th is one of the more popular holes on the back, says Blewett, not becauseit's easy. It's a testy, tough par-5 (598 yards from the back tees and 443from the forward) also known as the signature hole for the course. Thefairway takes you up and down three times and requires some blind shotsbefore you near the small undulating green. Some say this is one of thetoughest par-5 holes in the state.
Even though this isn't a desert-style target course and even though thereare generous landing areas in most cases, Los Cab has a very modern feeling.
The verdict
Don't come to Los Caballeros with the idea that it's a 25-year-old pushover.In fact, this course could be tough on your handicap. The rating/slope fromthe back tees is 73.5/138 where the distance is almost 7,000 yards; even themen's mid-level tees are ranked at 71.4/132.
For an older course, conditions are excellent, much better than at many newer courses in the Phoenix area. The greens are super-fast, so bring your best putting stroke.
Where to stay
Staying at Rancho Los Caballeros is a great option for the whole family. The resort is open from fall through spring, although the golf course is open all year round. Rates are high but include three meals a day per person and offer you a host of activities: hn or norseback riding, bird watching, children's activities and desert trail rides and hikes. Call (800) 684-5030. Web site: sunc.com. There are three other guest ranches in towearby: the Flying E (888) 864-2650; the Kay El Bar (800) 684-7583 and the Wickenburg Inn and Dude Ranch (800) 942-5362.
What else to see
Wickenburg has a historic district downtown that includes the DesertCaballeros Western Museum at 21 N. Frontier St.
You can also drive out Vulture Mine Peak Road for a few miles to the VulturePeak Trail and climb to the summit of the town's favorite mountain. It's amoderately strenuous four-mile round trip to a saddle about 1,000 feet abovethe trailhead.