Thank You, Mr. Jones: Dove Valley Ranch Golf Club

CAVE CREEK, Ariz. - Who says public golf courses can't be classy? Play Dove Valley Ranch Golf Club, a Robert Trent Jones II course, opened in 1999, and you'll be treated as well as you would at a good private course.
First of all, forget the bag drop. They met me at my car as I drove into the parking place, unloaded my clubs, asked my tee time and told me the rest of my group was on the range. That was an impressive beginning. Enter the pro shop which is tastefully done and well stocked. The staff couldn't have been more professional and accommodating.
Don't try to buy a bucket of balls. They are complimentary on the range. At tee time, one of the bag boys led us to our tee, gave us the little yardage book and told us we could call in our snack order on number 9 for pick-up at the turn.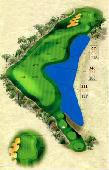 The women's yardage is 5337 with a 114 slope and a 70.5 rating; the front plays easier than the back. The first hole is a nice, open par 5 with spectacular views of all the mountain ranges around Scottsdale and Phoenix.
There are 3 holes with water, 2 of which are on the front. Number 2 is the only one where you have to be a bit strategic with your drive. Hole 8 is the number one handicap hole, but just hug the left, and you'll avoid the desert cut-out on the right.
What a pleasure the greens were to putt! And, you can be left with some gargantuan putts on those large putting surfaces, so pay close attention to the pin placements on your shot into the green.
Given the hot summers we have in Phoenix, many of the courses right now have some really ugly brown areas in the fairways and rough. For whatever reason, Dove Valley has managed to keep their course in superb shape—better than some of the private courses I've played lately.

>There was really only one hole where a long hitting woman would need to take out a 3 or 5 wood instead of the driver. No gimmicky lay-up holes; thank you Mr. Jones. And number 11, which is the second handicap hole, has great views and is a good par 4 hole. I just hope the surrounding desert isn't going to be paved over with subdivisions. The building has begun.
You'll find traps on every single hole, and the finishing hole is a nice par 4 with water on the right and plenty of traps around the green.

Don't miss this truly enjoyable course, especially for the $40 summer weekday rate. Weekends are $55 in the summer. Peak season (Feb to April) is $95 weekdays and $125 weekends and holidays. Deduct $10 to $15 off for fall, early winter and late spring.
Sandwiches and drinks are available inside and on the patio. And that nice guy cleaned my clubs and drove me back to my car in the golf cart.