Southern Arizona's Bargain Golf Resorts for the Winter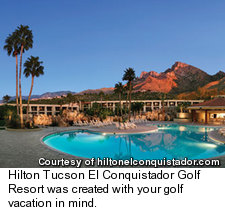 Now that the temperature has cooled, it's the perfect time to golf in Arizona. Southern Arizona has numerous first-class resorts at bargain prices just waiting for you to take advantage of them. The variety of courses and accommodations means that you're sure to find one to fit your needs.
Looking for a golf resort within a comfortable driving distance from Phoenix and Tucson? Just off I-10 at Casa Grande, Francisco Grande is the perfect fit. Only an hour from Arizona's two largest cities, $370 for a four-day stay with golf is a steal. Arizona's longest course measures more than 7500 yards, demanding that you excel with your driver. Large trees and water provide a peaceful atmosphere for hitting the long ball. Additionally, you'll be delighted with the manicured greens. Francisco Grande Golf Resort is one of Arizona's hidden gems.
Hilton Tucson El Conquistador Golf Resort was created with your golf vacation in mind. It's $199 per night with golf included. 9 holes are at the resort and two 18-hole courses are just two miles to the west. With 45 holes, you won't need to worry about overcrowding here. El Conquistador's tight desert design forces you to forget about the rough. It's either fairway or desert. Elevation changes provide stunning views of the Catalina Mountains and ideal spots to watch both the sunrise and the sunset.
The current site of the Tucson Open is the Omni Tucson National Golf Club and Conference Resort. It has a first-class spa, and a night's stay is $209. This price also covers a round and a cart on any pair of its 3 nine-hole courses. The gold and orange nines comprise the layout for the Tucson Open. Designed with a midwestern feel, the holes are straightforward and forgiving. The green nine is a desert beauty. Creative designs and severe elevation changes make it unique to southern Arizona. You can mix and match the nine's, forming either a tour-like round or a combination of the past and present in golf design.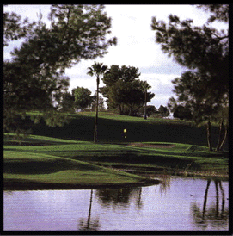 Forty-five minutes south of Tucson is Tubac Golf Resort. Located off I-19a night's stay with golf is $170. Its isolation from society presents the perfect vacation surroundings. Lush fairways and fast bent-grass greens make this course play like a future PGA stop. In fact, hole #16 was used in filming "Tin Cup." This par 5, with water short of the green, was used in the Pro-Am scene early in the movie. The scene helped foreshadow the climax with Kevin Costner's character going for the green in two. From the tips, the hole plays almost 600 yards, so I suggest playing from the whites. At 515 yards you can leave yourself a similar Costner-like chance in two.
Rio Rico Golf Resort is the home of one of the most challenging courses in the state. The legendary Robert Trent Jones, Sr. designed this course, which has just finished hosting the first two sections of the PGA qualifying school. It's in perfect shape, so bring your Crenshaw-like putting stroke for southern Arizona's fastest greens. $110 per night covers accommodations and a round of golf is $55. Rio Rico is just an hour south of Tucson off of I-19.
Fantastic resorts throughout southern Arizona have great deals just waiting to be taken advantage of. These courses were overseeded in October and are in the best shape of the year.
November 30, 1998